Pregnancy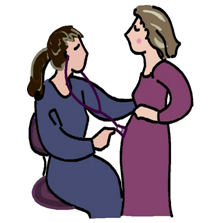 Planning to get pregnant
In an ideal world, before a woman gets pregnant she should ensure she's a healthy as possible.
Its best to:
Start taking over the counter Folic acid supplements. These can be bought from any pharmacy, and even from a well-stocked supermarket. You cannot take these supplements for too long before you get pregnant, and if you've taken it for more than 3 months prior to conception all well and good. If the pregnancy was not planned, then start taking the folic acid supplement as soon as you discover that you're expecting. You should continue taking the folic acid supplement until you are 13 weeks pregnant.
If you are a smoker, you should try to stop smoking.
If you have never been vaccinated against German measles (rubella) then you should get vaccinated. Rubella is one of the vaccines given in the MMR vaccine.