Influenza (Flu)
For most people the flu is a very unpleasant illness (learn more...). If you contract it it is likely to incapacitate you for a few days. For the vast majority of people, they go onto make a complete and full recovery.
However there are some people who are more at risk of a complication, hospitalisation or death from flu. We say these people are in an at risk group.
We'd generally recommend that everyone over the age of 2 be vaccinated against the flu.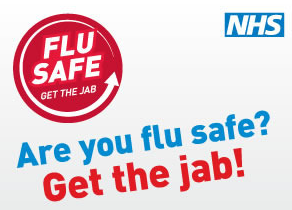 People aged 2-17 years old, are offered a painless intranasal spray, whereas everyone else is offered an injection (usually into the upper arm).
Unfortunately there are many strains of the flu. Experts in these matters work out the strains of flu likely to cause an epidemic in the UK each year, and the vaccine offered, confers protection against those particular strains.
It is for this reason that people need immunising every year.


People who have had a severe reaction to a previous flu vaccine
People with severe egg allergy
Certain people on chemotherapy - if this affects you please ask your oncologist or haematologist if you should be vaccinated
It is best that people presently feeling ill and feverish from fighting off an infection, postone their vaccination until the feel better. (As long as the fever has gone away, it does not matter if they are still taking antibiotics). The main reason for this is that the vaccination would not work as well, and the immunity to flu given would not be as strong.


People deemed as belonging to an at risk group are entitled to a free flu vaccination at the surgery. People who would like to be vaccinated who do not come under this category may be able to have a private vaccination.
Places to get a private flu vaccination
Boots
Superdrug
Tesco Pharmacy
Asda Pharmacy
Some employers
Who's in the at risk group?
Those aged 50 years and over


Everyone who is pregnant


Children ages 2-8 years old


Those living in a long-stay residential care home or other long-stay care facility


People who receive a carer's allowance, or you are the main carer for an elderly or disabled person whose welfare may be at risk if you fall ill


People with any of the following medical conditions:



Asthma
Chronic Obstructive Pulmonary Disease (COPD)
Chronic heart disease
Heart Failure
Chronic Kidney Disease
Hepatitis
Parkinson's disease
Motor neurone disease
Multiple Sclerosis
Sickle cell disease/anaemia
People who have had their spleen removed
HIV and AIDS
Chemotherapy
On long-term steroids
Being seriously overweight (BMI of 40 or above)
If you have coeliac disease, vaccination against seasonal flu needs to be considered on an individual basis

Children aged between six months and two years of age in an at-risk group will be offered a flu jab.


Flu Clinics at the surgery
Every year, from October to December, the surgery runs a campaign aiming to vaccinate as many of its at risk patients as possible.
Please note that the management at Locala have announced that they will no longer be allowing the district nurses to administer flu jabs to housebound patients in their own homes this year.
Because it seems to suit very many people, the surgery opens on certain Saturday mornings in October and November, to offer flu immunisations. There are via appointment only, and people can start booking their place from the end of September each year.
Our Patient Participation Group are planning to organise a coffee morning on the same day.
Adults entitled to an NHS flu jab, who also happen to have an appointment with a doctor or nurse at the surgery between October and December each year, can request an opportunistic flu jab.